Well this dating website here. It's a real breeze to use, got plenty o folks to chat with, and it sure feels cozy and secure, like sittin on the porch sippin sweet tea.
This is the beat dating site I was looking for. I have been trying may site but a friend told me about this site as the best. And is the best.
This dating website is great for meeting new people and finding potential matches. I talked to several ladies already and can say they got my attention.
Veronikalove.com is straightforward to use and I've met some gorgeous women here. It feels safe and dependable which is important for someone my age.
This dating website, I gotta say it's pretty solid. You got a bunch of people on here, it's easy to use, and they take safety seriously, not too shabby.
Great dating website. easy to use, lots of options, and I've met some interesting ladies
Love it and can't stop looking at these beautiful women
Have never come across such a wonderful site like veronicalove dating site is so amazing all ladies are beautiful and of course best writers,soon am gonna find my soul mate bravo to this great site!!!
SALUDOS DESDE QUITO-ECUADOR; FELICITACIONES A VERONICA LOVE POR EL PROFESIONALISMO QUE TIENEN AL BRINDAR ESTE SERVICIO DE ENLASES MATRIMONIALES A NIVEL MUNDIAL.
I had relationship with one woman from here. We had long distance relationship for a year. And yesterday we've finally met! It was perfect date! I'm so happy:)) PS: really impressed by Ukrainian hospitality:)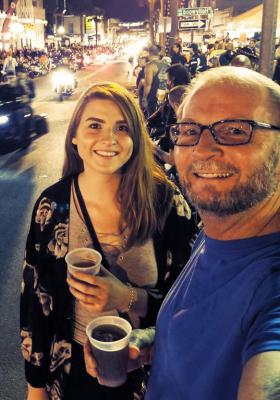 Veronikalove is amazing!!! You help me to find the love of all my life. I've been searching her for a long time and almost give up. Veronikalove was my last try and it worked. I found my Vika. She is wonderful. We wrote emails each other and chatted about half a year. And finally decided to meet. I was a little worried when came in Ukraine. I was afraid what if she won't come or something else can happen. But when came the moment and we saw each other all worries went aside. The translator helped us, cause Vika didn't know English. It's so great finally to hug her, see her eyes in real life and live together. Yeees!!! Vika moved to me, she has learnt English and teached me a few Russian words. And soon we will get married. I'm still glad that my last try was exactly Veronikalove, it helps me to find my destiny!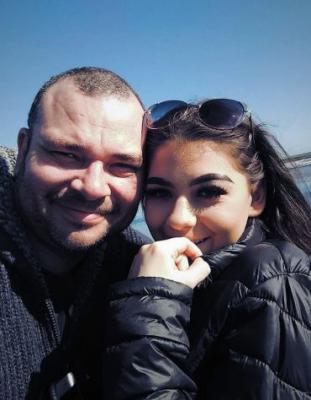 I liked Ludmila at the moment when I saw only her photo. It was her birthday and I wrote a letter her to congratulate. Our communication was easy and we could chat more than an hour about everything. Last autumn we met and finally saw each other. I am very grateful Veronikalove that made our meeting comfortable. The translator helped us to communicate. This summer I am going to Ukraine again to see my love. I hope that in the future me and Ludmila will be happy together!!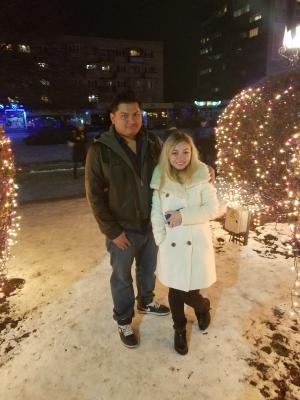 I started to communicate with Galina about a year ago and it's been a hell of a ride we have had are ups and downs but at the end if you are meant to be together you will find each other. she as well as the translator I talked to did not believe how young I was and If I was serious be went I met her they all knew that I was or should I say we both were. I plan on seeing her soon again and maybe get married in a year from now December 2018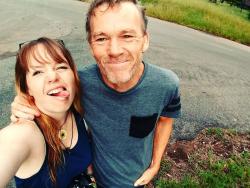 Frank and Anna
on 2017-12-08
Hi there! We are Frank and Anna from Indiana. We wish to share with you our little story of Big Love:)It began from one letter from Anna to me 3 years ago. That time I was in search of life partner. I was alone for years after divorce with me ex-wife. And I wanted somebody who will support and understand me. With whom I can share the rest of my life. I heard that slavic ladies are the best wives so I tried to look for the way to find this woman. I registered on VeronikaLove. I was impressed. After a while I received a letter from Anna. It was her life story that was very close to mine. From that moment we are together. Now we are married and make our dreams come true!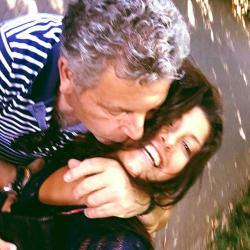 I was extremely skeptical of online dating, but I will forever be so grateful that I submitted my profile last summer. After a few hit-and-misses, I got the first message from Alyona. She wrote that she is ready for family and want to meet me. We spent a long time talking before we met, and when we finally did meet, I was the most nervous I have ever been. Shortly thereafter, I found myself quickly falling in love with the kindest and most thoughtful lady that I'd ever met. I am really happy!